News in the 'Charities' category:
---
November 22, 2013

DiLeonardo has partnered with Plan International to raise funds for victims of one of the strongest storms recorded in history. CLICK TO DONATE!
By giving today, you can help by:
Providing clean drinking water for children and families.
Ensuring the displaced and homeless have shelter to recover after the storm.
Supplying emergency kits including food, family hygiene kits, and other basic essentials.
Raising more! DiLeonardo will match up to $10,000 raised.
---
October 2, 2013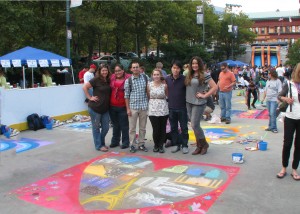 DI designers participated in the Providence Rotary's Annual Street Painting Festial; benefiting organizations that enrich the lives of underprivileged children. Many gathered in downtown Providence for the cause, using art to help raise funds for the organizations.
DiLeonardo's piece was entitled, "Architecture for Humanity," displaying select famous structures around the world.
---